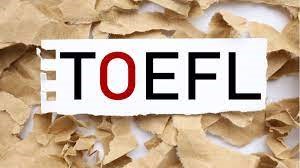 What is TOEFL test?
Test of English as a Foreign Language (TOEFL) is a standardized test to assess the English language proficiency of non-native English speakers willing to enroll in colleges/universities in English-speaking countries. More than 11,000 reputed universities accept it in more than 150 countries. It is managed and conducted by the Education Testing System (ETS). 
There are two types of TOEFL exams;  TOEFL iBT which is computer-based, and the other one is TOEFL iBT paper-based examination. TOEFL is mostly attempted by students who are planning to pursue higher education abroad.
Table of Contents
TOEFL tests the English language proficiency of non-native English speakers based on four sections- Reading, Listening, Speaking, and Writing. The four sections of TOEFL are designed
to assess the overall English language skills and how proficient the applicants are while communicating in English. It is important to check their communication skills before they move to an English-speaking country for academic or professional purposes. 
TOEFL exam scores are accepted and recognized by the world's top economies, like the USA, Canada, the UK, Australia, and Germany. The test duration is around 3 hours, and the registration fee is USD 190. 
Applicants can get themselves registered through the official website of ETS or by phone or e-mail. The smooth registration, cancellation, and rescheduling process helps the applicants attempt the examination in the best manner. TOEFL is conducted more than 50 times a year, which makes it 4-5 times a month. The test stands valid for two years from the day of the declaration of the results. There are 4,500 test centers in 150 countries. ETS has not set any official TOEFL exam eligibility or prerequisite for the test-takers in terms of academic qualification or age criteria. It is intended for non-native English speakers from all over the world. 
Importance of TOEFL examination
The TOEFL examination is a globally recognized standardized English language proficiency test that helps non-native English speakers prove their language proficiency to be eligible to work and study in an English-speaking country. It is a general eligibility criterion, and applicants must have a valid TOEFL score to take admission or apply for employment. The developed countries in the world, along with the top-ranked universities and colleges, accept TOEFL scores to test the eligibility of non-native English speakers. 
Here are all the reasons why a TOEFL score is important for an applicant:  
TOEFL score provides access to excellent study abroad programs: A valid TOEFL score gives you access to the top-ranked universities and colleges worldwide. Developed economies like the USA, the UK, and Canada accept TOEFL scores to grant admission. It is a dream for meritorious students from all over the world to study in globally ranked universities and build a fruitful career. 
TOEFL helps these applicants fulfill their dreams of studying in an English-speaking country where they can communicate and integrate into an English-speaking culture. Along with scores, merits, and degrees, TOEFL scores are eligibility criteria to take admission in the top-ranked universities. It is because the admission panels need to test whether the candidates taking admission will be able to understand, communicate, and be understood during their stay in the country. English is the only mode of communication and instruction in these English-speaking countries and universities. 
It is essential to test and evaluate the English language proficiency and skills among the non-native English speakers with a different native language and mother tongue. The more reputed the institution, the more will be the requirement of a TOEFL score. TOEFL score is not only a prerequisite for university entry for non-native speakers but is also essential for those wishing to register with professional bodies and organizations. TOEFL scores are accepted by more than 11,000 universities and colleges worldwide, and with a high score, you can always take admission to the best educational institutions. 
Explore a robust job market: Opportunities for employment and high salary packages are very common in developed countries like the USA, the UK, Canada, and Germany. Skilled workers and talented employees from all over the world aspire to build a career in  these developed economies where the job market is always on the rise. However, top brands and multinationals are very eager to take in talent from all over the world, but with a TOEFL score that evaluates English language proficiency. To work with these global brands, the applicants need to prove their English language skills in all four sections- writing, reading, speaking, and listening skills. An employer needs to know if the employees can communicate and integrate into an English-speaking environment.
Communication stands to be the most basic prerequisite to work. To work with a global employer, applicants must be able to fluently speak, write and communicate in the English language. TOEFL is accepted worldwide and it opens enormous scope for talents from all over the world. With language proficiency, it becomes easy to work, immigrate and integrate into an English-speaking environment. A TOEFL score is important to get a work visa. In the UK, Canada, and the USA the requirements of TOEFL scores are higher than any other country. 
Get access to immigration: Immigration to developed countries in the world is a dream for many meritorious and highly ambitious individuals. However, the immigration services of the most developed economies of the world will require a valid English language proficiency test